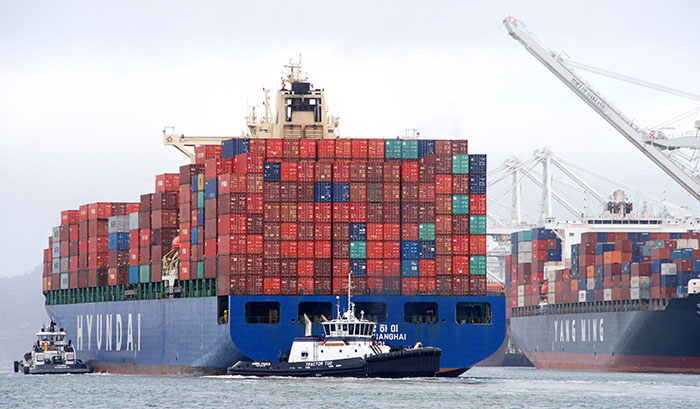 The finances of Hyundai Merchant Marine and Yang Ming Line have been the subject of industry scrutiny.
Source: www.joc.com
Yang Ming Line and Hyundai Merchant Marine, both of which were seen by some analysts and shippers as in danger of collapsing, have over the over the past 12 months managed to make headway in cleaning up their balance sheets and improving both revenue and volume.
South Korea's HMM dodged the bullet that took down its larger rival Hanjn Shipping a year ago and then itself became the country's flagship. With Hanjin Shipping out of the picture, HMM's cargo volumes climbed 45.5 percent in the second quarter to 986,022 TEU. Trans-Pacific volumes went up by 34.5 percent year-over-year while Asia-Europe and intra-Asia shipments rose 94.5 percent.
Although HMM is steadily improving its operating performance, the carrier reported a net loss of $150 million in the second quarter, compared to a $188 million net profit made in the same period of 2016. That profit was gained on the sale of assets as the carrier struggled to avoid bankruptcy.  HMM in the first half recorded a $794 million loss.
Taiwan's Yang Ming became the subject of industry speculation it could fold after its losses doubled in 2016 to $493.6 million and trading in the company's stock was suspended less than a month later. Trading resumed in two weeks.
However, Yang Ming has embarked on a financial turnaround, and while the second quarter was the 10th straight loss-making quarter and followed the carrier outpacing its peers in Asian import growth to the US in the January-to-April period. The company's volume of US imports from Asia rose 10.1 percent for the first half as a whole, according to PIERS, a sister unit of JOC.com.
Yang Ming managed to narrow its second quarter net loss by 90 percent compared to the same period in 2016, and the $414.7 million loss was 50 percent lower than during the first quarter of this year. The carrier said it will also float 500 million shares in a bid to raise $165 million as part of its recapitalisation plan, with 80 percent of the new shares to be issued to existing shareholders and 20 percent to be issued to the public and employees of the company.
"Based on the company's recent results and overall performance trend in industry, Yang Ming remains optimistic in our forecast for 2017," the company said in a statement.
While all carriers are for sale at the right price — OOCL was not for sale until Cosco Shipping and Shanghai International Port Group waved a $6.3 billion figure in its face — Yang Ming and HMM are unlikely takeover targets.
As industry analyst Alphaliner has pointed out, Yang Ming is 36 percent owned by the Taiwan government with 29.9 percent held by the Ministry of Transport and Communications and 6.4 percent by the NDF. This sizeable government stake makes the carrier unattractive as an acquisition option.
Likewise, Alphaliner said HMM remains reliant on Korean government support to ensure its rehabilitation after the severe blow it received in 2016 when the company was forced to restructure its debt and Hyundai Elevator was removed and replaced by the Korean Development Bank as its main shareholder.
"HMM's participation on the restrictive 2M+HMM arrangement and its continued reliance on the Korean government's subsidy program would rule out HMM as a potential takeover target by foreign buyers, at least in the short term," the analyst said.
Yang Ming and HMM are just the latest carriers to post improved earnings this year following a first half profit from OOCL and two of the three Japanese carriers. Maersk Line expects to improve on its 2016 loss by $1 billion and both Alphaliner and Drewry are expecting the industry as a whole to turn a profit.
Drewry recently said headhaul trades that were most important to carrier revenues were staging a broad recovery from the rock-bottom rate levels of last year and this is likely to continue for the second half. Carriers were also able to secure higher trans-Pacific service contracts for the 2017 to 2018 season, with prices around $1,200 per FEU to the West Coast, compared with about $800 to $900 per FEU in the prior season.
Other Additional Information:

1. Yang Ming reports smaller loss in Q2 2017 (American Shipper)
2. Yang Ming stays in the red as THE Alliance fine-tunes its contingency fund (TheLoadStar)
3. Yang Ming's recapitalization plan continues with new share offering (SPLASH24/7)